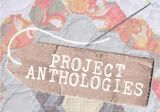 Congratulations to Melany Tenore on the opening of Project Anthologies. It is located in a new mini mall blossoming in downtown Oneonta. Project Anthologies is a great example of local creativity and energy rejuvenating downtown spaces. It counters the story some would tell of Center City decline.
Project Anthologies is also an example of what Michael Shuman calls "leak-plugging businesses." Coordinated with organizations like BALLE, the Business Alliance for Local Living Economies, leak-plugging increases both self-employment and employment: investments and purchases stay local.
Comparing the Rural Solutions conference with Shuman to the economic plan promoted by Senator Seward, there was a lot of overlap but one big difference. Seward's team still seems to be aiming at "a vision for attracting a major economic development opportunity–landing 'the big fish.'" As Shuman pointed out, the "big fish" idea stems from traditional economic development approaches, which often amount to bribing a business to locate or remain, then reassure locals that it is in their interest to keep the big fish at any cost. This kind of economic development has little to do with local business and can be counter-productive to necessary initiatives.
So, check out the Project Anthologies blog and now check out the Project Anthologies store in downtown Oneonta!